Let's see 2022's most expensive gadgets in the world with extreme luxury gadgets products. Each gift of modern technology never fails to amaze us just like magic.Science and technology are the new sorcery of the 21st century. It's embedded with flawless logic, accurate coding, genius, and construction. As the clock ticks away a new upgrade is ready to be introduced.
Better specifications come with higher price tags, the most expensive gadgets in the world till 2022 are:
1. Falcon's Supernova iPhone 6 Pink Diamond
Price: $48.5 Million
The Supernova iPhone 6 Pink Diamond, far from being just another iPhone 6, is the world's most expensive customized phone, costing a whopping $48.5 million. Falcon designed the phone, which has platinum plating and a large pink diamond on the back, according to GQ. Nita Ambani, the wife of Indian billionaire Mukesh Ambani, owns the device.
Jarre iPods and iPod Docks, as well as Yalos Diamond TV, are other famous devices. These devices provide the greatest technology money can buy, and they give the elites pride and glory for possessing the best. The fight to provide exclusive technology to the globe is heating up as more firms aim to manufacture exclusive devices.
02. 201 Carat Chopard Watch
Price: $25 Million
201 Carat Chopard Watch is the most expensive gadget in the world. It contains diamonds of different colors consisting of pink, blue, white, and yellow, covered in 874 high-grade diamonds of numerous sizes. At the center of this watch, a solid fancy pink diamond can be seen which is heart-shaped and weighs 15.37 carats.
There are also heart-sized blue and D-color (white) diamonds and the quantity of them are gradually 12.79 and 11.36. Each of them consists of a cluster of 260 diamonds and 91 round solid diamonds. They are D-colored, pear-shaped, perfect diamonds that weigh a total of 10.29 carats and are arranged into flower shapes.
At the center of that a round-shaped yellow diamond, carries 8.81 carats. Moreover, the numbers of the pear-shaped yellow diamonds are 26 in total and they carry 17.07 carats which interspersed throughout the bracelet.
When the spring-loaded mechanism in the piece is pressed, the three heart-shaped stones open like flower petals exposed to the sun, the pave-set watch face being exposed, the dazzling yellow diamonds get visible. The full body of the watch is an amazing structure of diamonds placed most tastefully. It is the best gadget for a timekeeper who loves to wear as well as jewelry as it works for both fashionable jewelry along with the time.
3. iPhone 5 Black Diamond 
Price: $15 Million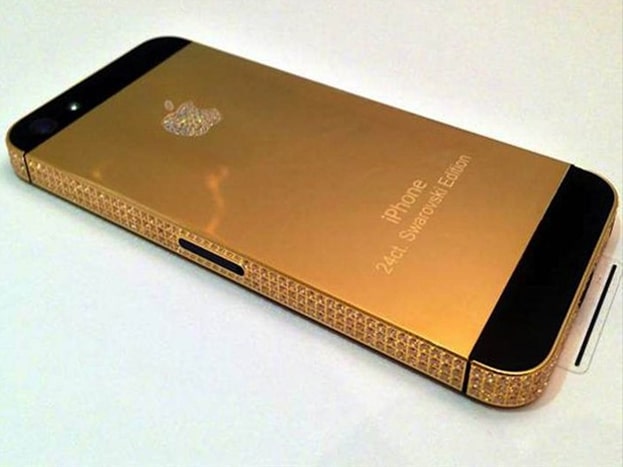 The $15 million iPhone 5 Black Diamond took nine weeks to construct, using 135 grams of 24-carat pure gold. The Apple emblem on the rear was inlaid with 53 white diamonds, while the chassis was encrusted with 600 white diamonds. Apart from these valuable elements, the phone's screen is made of sapphire.
The solitary, immaculate black deep-cut diamond that has replaced the home button is the star of this black-and-gold iPhone 5. This black diamond, weighing 26 carats, belonged to a Chinese businessman who commissioned this phone from Stuart Hughes, a luxury goods manufacturer.
4. iPad 2 Gold History Edition 
Price: $7.8 Million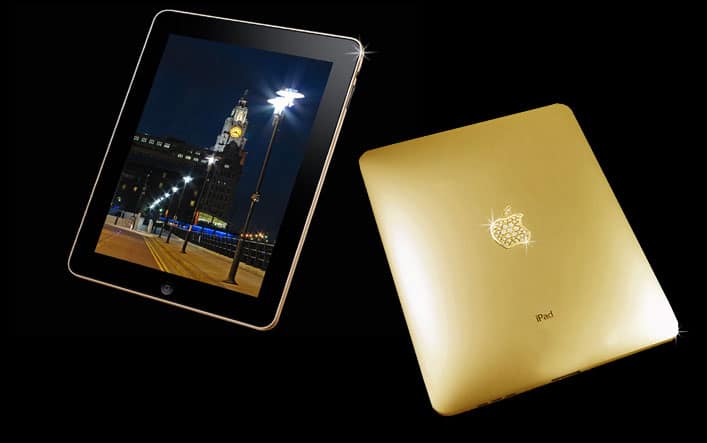 Stuart Hughes has constructed an iPad 2 using shavings from a 65 million-year-old T-Rex dinosaur's bone. That's not all, though. The device's front frame is composed of Ammolite, the world's oldest rock, which dates back 75 million years.
This device is additionally adorned with 53 12.5-carat immaculate diamonds. This iPad 2's rear panel, as well as the Apple logo, is crafted of 24-carat gold and weighs 2kg. Stuart Hughes has only created two copies of this iPad 2 Gold History Edition, which costs $7.8 million.
5. Hart Audio D&W Aural Pleasure loudspeakers 
Price: $4.7 Million
Hart Audio released the world's most expensive set of speakers in 2012 as part of its Aural Pleasure line. Only one pair of 18-carat gold earrings, priced at $4.7 million, is available in the world. A total of $515,000 was spent on five sets of silver speakers. The solid phosphor bronze speakers are priced at $63,000 each, with only 99 pairs available.
6. Triton Personal Submarine 3300-3
Price: $2 Million
The Triton Personal 3300-3 is the greatest submarine available for exploring the world under the waves. The submarine, which cost $2 million, can dive to a depth of 3,280 feet. Under the supervision of CEO Tom Fussell, BBC Studios has numerous personal submarines. Many projects, including Discovery and BBC's Blue Planet II, Galapagos, and Sir David Attenborough's Great Barrier Reef, have benefited from it.
7. Diamond Encrusted IPod
Price: $1 Million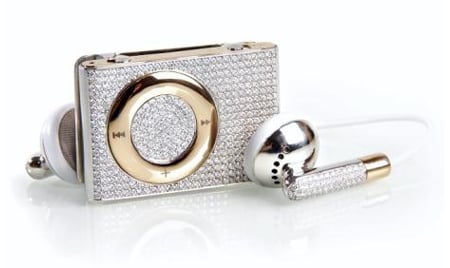 Floyd Mayweather, a former professional boxer, enjoys music. He loved his iPod so much that he spent $1 million on it. The device is crafted of pure 18-karat gold and is encrusted with a total of 100 carats of diamonds. The matching headphones, which cost $50,000 in addition to the iPod, are also adorned with diamonds.
8. Macbook Air Supreme Platinum Edition 
Price: $500,000
Apple products are already among the most costly in the world, and luxury manufacturers are raising the bar even higher. Not only iPhones and iPads have received the deluxe treatment, but Macbook computers have as well.
The Stuart Hughes Apple MacBook Air Supreme Platinum Edition is composed of platinum and weighs a whopping 7 kg. Only five pieces are available worldwide. Even without the diamonds and sapphires, this version of the Macbook Air costs almost $500,000.
9. Nintendo Wii Supreme 
Price: $497,300
Although the Nintendo Wii is no longer available, Stuart Hughes has ensured that it stays relevant for high-end players. The gadget costs $497,300 and is limited to only three units. The Nintendo Wii Supreme is crafted of solid 22-carat gold, weighs more than 2.5 kilograms, and takes six months to complete. The front buttons are set with 78×0.25-carat immaculate diamonds totaling 19 carats.
10. Sony PlayStation 3 Supreme 
Price: $331,500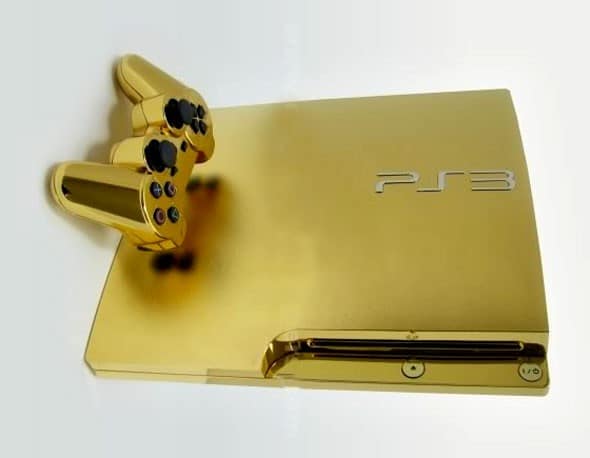 Although Sony's PlayStation 3 is also out of date, Stuart Hughes has turned it into a gaming memento. The Sony PlayStation 3 Supreme is a $331,500 game system crafted of solid 22-carat gold that weighs 1.6 kg and is limited to only three units. The diamond-studded disc loading slot on the fancy game console is set with 58 22-carat diamonds.
11. Diamond BlackBerry Amosu Curva 
Price: $240,000
Alexander Amosu, a British luxury goods manufacturer, is selling a limited edition BlackBerry Curve 8900 phone for $240,000. On the front and back of the phone, there are a total of 4,459 diamonds totaling 28 carats. This phone will come with a year of complimentary concierge services thanks to its 18-carat gold body. The organization only built three of these devices, each of which required 350 hours to create.