If I had to bet, I'd put my money on foldables being the future. Increasingly, the high-end of the market is going to shift to these devices as mobile enthusiasts warm up to the idea and prices come down. But we're not there yet—foldables still have unavoidable drawbacks that you won't have to worry about with the Galaxy S22 Ultra. This phone doesn't fold, but it does just about everything else you could ask of a flagship device in 2022.
Much has been made about the design and integrated S Pen of the S22 Ultra, which clearly pegs it as a Note phone in all but name. The name might not fit, but the model family doesn't matter—what matters is "Ultra." This phone earns the moniker with a superb display, speedy performance, a hyper-advanced camera array, and the best build quality this side of the iPhone. Oh, it's expensive to be sure, but for a certain kind of smartphone buyer, the S22 Ultra might be the only choice.
What you need to know about the Samsung Galaxy S22 Ultra
The Samsung Galaxy S22 Ultra is the best piece of hardware running Android, but it commands a price so high that most people should look elsewhere.
Samsung Galaxy S22 Ultra release date and price
The Samsung Galaxy S22 Ultra is set to be an expensive smartphone, although no more so than last year's model. It costs the same as the S21 Ultra did at launch, with the cheapest version with 8GB of RAM and 128GB of storage costing $1,199 / £1,149 / AU$1,849.
There are also variants with 12GB of RAM and more storage, which will cost you a lot more. You can see full prices below.
You can pre-order the Samsung Galaxy S22 Ultra now, and it'll be on sale on Friday, February 25 in the US and UK. You'll have to wait longer in Australia, where it hits store shelves March 3.
Samsung Galaxy S22 Ultra prices

| Configuration | US price | UK price | AU price |
| --- | --- | --- | --- |
| 8/128GB | $1,199.99 | £1,149 | $1,849 |
| 12/256GB | $1,299.99 | £1,249 | $1,999 |
| 12/512GB | $1,399.99 | £1,329 | $2,149 |
| 12GB/1TB | $1,599.99 | £1,499 | $2,449 |
SPECIFICATIONS
Brand: Samsung
Storage: 128, 256, 512, 1024 GB
CPU: Qualcomm Snapdragon 8 Gen 1
Memory: 8,12 GB
Operating System: Android 12 with One UI 4.1
Battery: 5,000mAh, max 45W charging, 15W wireless
Display (Size, Resolution): 6.8-inch 1440 x 3088 OLED @ 120Hz
Camera (Front): 40MP f/2.2, 26mm
Cameras (Rear): 108 MP f/1.8 primary, 12 MP f/2.2 ultrawide, 10 MP f/2.4 3x telephoto, 10 MP f/4.9 10x telephoto,
Price: Starting at $1,199
Connectivity: Wi-Fi 802.11 a/b/g/n/ac/6e; Bluetooth 5.2; 5G mmWave and sub6
Dimensions: 163.3 x 77.9 x 8.9 mm, 229 g
Bright and colorful display
Helpful S Pen with onboard slot
Solid cameras
Exclusive screen sharing feature on Google Duo (for now)
Cons
Some new features are underwhelming
Relatively short battery life
Design
The difference between the S22 Ultra and last year's model starts with their design. The S22 Ultra is pretty much a Note 20 Ultra clone, which makes it a departure from the S21 Ultra's rounder silhouette. With the same rectangular shape, curved edges and matte brushed metal finish, the two handsets look and feel almost identical. The S Pen slot is even in the same location at the left side of the bottom edge. If I didn't give you the exact dimensions, you probably wouldn't even be able to tell that the S22 Ultra is slightly wider, shorter and thicker than the Note. You might notice, though, that the S22 Ultra is about 21 grams (or 0.74 ounces) heavier.
The phone weighs more than the Pixel 6 Pro, too, though the iPhone 13 Pro Max still beats it at 240 grams. Google's premium flagship already reminded me of the Note 20 Ultra, aside from its colorful two-tone design and camera bar. Instead of a rectangular module at the top left corner housing the array of sensors, the S22 Ultra's cameras are neatly laid out in two columns on the back with no boundaries containing them. I prefer this streamlined, less cluttered look to the Note 20 and S21 Ultra's versions.
I also appreciated the S22 Ultra's Gorilla Glass Victus+ covering, especially after it fell from the top of a cabinet and survived without a scratch. I was somewhat disappointed that the review unit I received was the boring black version, not one of the other three color options. If I were shopping for myself, I'd choose either the green or burgundy, which I got to see in person at a recent Samsung hands-on event.
Display and audio
As is usually the case with Samsung's devices, the S22 Ultra's screen is sumptuous. Its 6.8-inch Super AMOLED panel is colorful, bright and easy to read in the sun, thanks to its peak brightness of 1,750 nits. Like previous Galaxy flagships, the S22 Ultra also refreshes at 120Hz, making for a smooth scrolling experience.
To ensure users can see what's on their phones regardless of the lighting conditions, Samsung this year introduced what it's calling "Vision Booster." The feature is meant to kick in when it detects you're in direct sunlight or in super dim environments, adjusting not only the display brightness but also its color and contrast. You'll need to have adaptive brightness on for it to work.
I didn't notice much of a difference when I was playing Two Dots in bed one night, even when I pulled up the same scene on my Pixel 6 Pro to compare. Samsung says the effect is more noticeable in sunlight, but I still didn't observe a significant difference as the sun shone on the S22 Ultra's screen when I made my way to the office. Perhaps this is something where the effect is so subtle that it's hard to notice, but I never had trouble reading things on the S22 Ultra, regardless of the lighting around me.
I don't generally play music through my phone, but one night when my WiFi went out and I couldn't use my speakers, I had to resort to streaming Spotify on the S22 Ultra and it provided decent audio quality. It was loud enough to deliver the background noise I was looking for, though songs like Heartbreaker by Wabisabi sounded hollow and were lacking in bass. It was, however, better at handling mid-heavy sounds like the audio cues for games like Two Dots.
Galaxy S22 Ultra Software Features
The phone ships with Android 12 and Samsung's One UI overlay, and Samsung promises upgrades to Android 16 (with security updates through the Android 17 cycle). That's a nice perk, but just remember that updates sometimes arrive slowly because Samsung does everything through the wireless carriers.
One new change I appreciate: The phone now defaults to Google Messages rather than Samsung Messages, and on my test phone, RCS chat features are on by default. If the carriers don't screw this up, that gets Samsung owners the read receipts and typing indicators that iMessage users have loved for years.
Otherwise, Samsung's integration with Microsoft's Your Phone app on Windows PCs is worth a mention; I've been enjoying it for months. It lets you respond to text messages, drag and drop files, and mirror apps on your PC. It's essentially the Windows version of Apple's Continuity feature.
The S Pen's the Thing
The S Pen pops right out of a built-in slot.
The S Pen is a niche feature. Artists love it, for example. While you can get add-on styli for other devices, the S Pen tucks right into the body of the S22 Ultra, which makes it much harder to lose and always ready to use. The integrated stylus is a big part of why the S22 Ultra is bigger than the S21 Ultra though. And if you don't use it, that extra bulk may be difficult to overlook.
The new S Pen is the same size and shape as the Note 20's S Pen. It's flat on the sides, has a single button in the middle, and uses a pointy, flexible tip. But the body material is different—the Note 20 Ultra's S Pen was hard and shiny, while this one uses a matte, more rubbery material.
Samsung says it reduced the S Pen's latency from 9ms on the Galaxy Note 20 Ultra to 2.8ms on this model. I was initially skeptical that I would be able to tell a difference, but the stylus does feel more responsive on the S22 Ultra. Samsung says it uses an AI algorithm to predict where you're going to draw before you do, so whereas the Note 20's ink follows your pen, the S22 Ultra's ink almost precedes it.
Camera
Nearly identical hardware, but with software improvements
Last year, the Galaxy S21 Ultra impressed us with its versatile camera and especially with the incredible, high-quality 10X periscope zoom lens, and the Galaxy S22 Ultra camera mostly keeps that successful formula and gives it a fresh coat of paint.
The camera specs of the S22 Ultra haven't changed much at all, they are virtually identical to the ones on the S21 Ultra:
| Camera Specs | Resolution | Sensor Size | Pixel Size | Lens |
| --- | --- | --- | --- | --- |
| Main S22 Ultra | 108MP | 1/1.33″ | 0.8µm | 23mm, f/1.8 |
| Ultra-wide S22 Ultra | 12MP | 1/2.55″ | 1.4µm | 13mm, f/2.2 |
| 3X Telephoto S22 Ultra | 10MP | 1/3.52″ | 1.12µm | 69mm (3X), f/2.4 |
| 10X Telephoto S22 Ultra | 10MP | 1/3.52″ | 1.12µm | 230mm (10X), f/4.9 |
| Front | 40MP | 1/2.8″ | 0.7µm | 25mm, f/2.2 |
Sensor sizes and pixel counts remain the same (the telephoto lenses have slightly smaller sensors), but Samsung says the main camera has an improved version of the sensor and it is coupled with an even wider lens than the 24mm one on the S21 Ultra.
The big camera promise here is to "break the night".
Galaxy S22 Ultra camera sample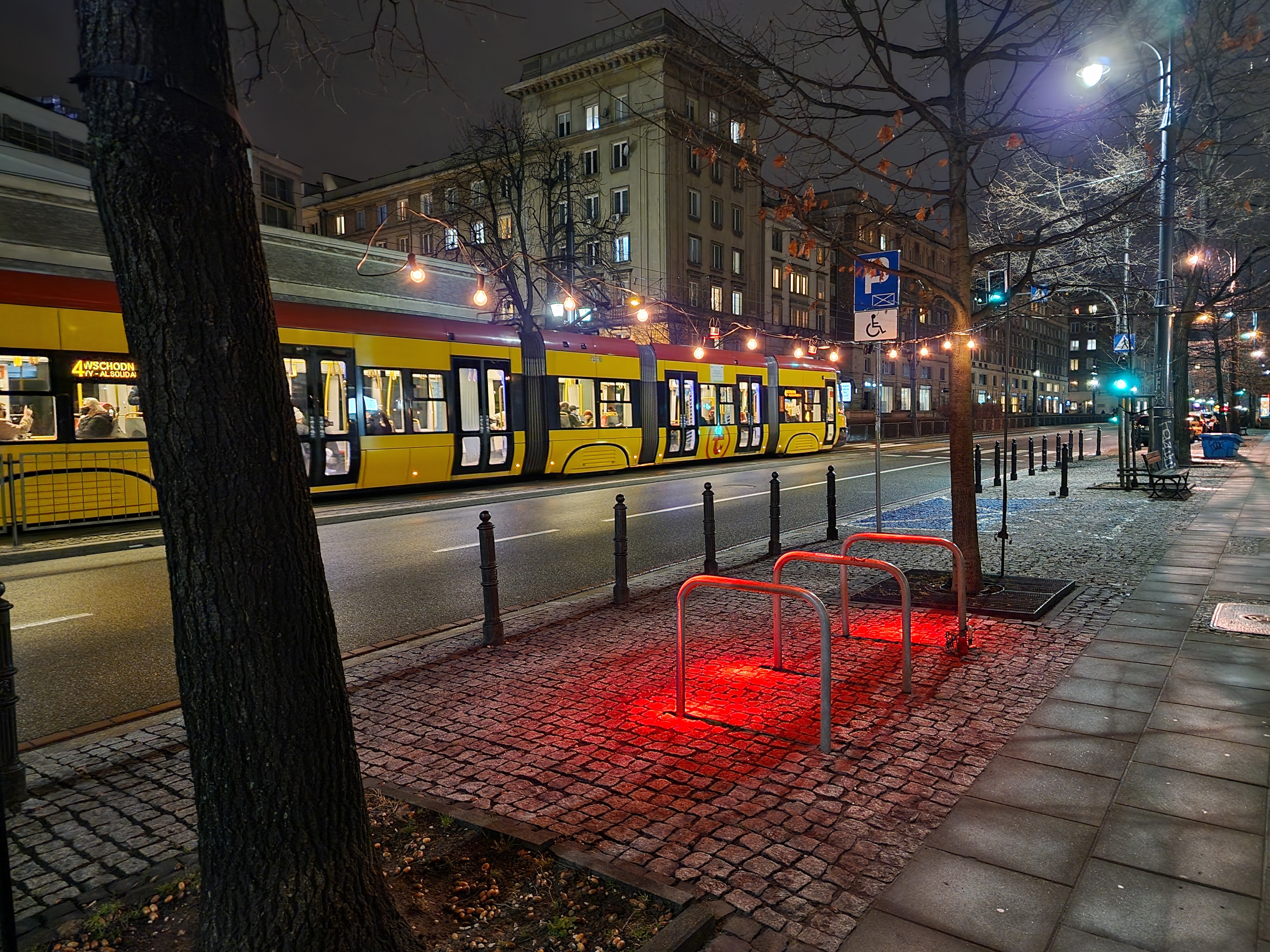 This night samples show how the newer phone can be smarter and capture more vibrant colors even at night.
But after testing the camera on the S22 Ultra with hundreds of photos and dozens of videos, we have a kind of love-hate relationship with it.
The main camera while still mostly good can suffer from having such a wide lens as you see loss of detail at the corners of an image. There image processing has changed too: the S22 Ultra lifts up the shadows aggressively and colors often appear bleak and lacking saturation with the main camera, and often times, it seems like photos from the S21 Ultra looked more vibrant and pleasing to the eye. That's the "hate" part of the relationship.
At the same time, Samsung has improved the one camera feature that makes the S22 Ultra great: the 10X zoom! We were impressed with the previous-gen Ultra, but this new edition brings a much cleaner detail and — in contrast to the main camera — more vibrant and lively colors. Put simply, this is a big improvement and we love it!
Another feature worth mentioning is the new Adaptive Pixel mode. You have to switch to the 108MP full resolution mode to make use of it, and it essentially bundles the 108MP full-res shot with a pixel-binned photo that traditionally has higher brightness, for one superior end result. Just keep in mind that those photos each weigh at about 20MB-30MB!
Samsung also promises superb Portrait Mode quality, where the phone can recognize even individual strands of hair and separate them from the blurry background in a portrait shot. If you don't have expectations that you will get DSLR-like quality, Portrait Mode will blow you away. It's the most accurate one of any phone we tried in separating subject from background, it gives you nice, creamy bokeh and it's just great. However, it's not perfect. Flying strands of hair still often get smudged. Yes, it's better than the competition, but it's not quite as revolutionary as Samsung's marketing materials might lead you to believe.
There is also a lot of excitement around the new Samsung Expert RAW feature that provides 16-bit RAW capture and professional level camera controls.
On the video side, the S22 Ultra can record in 8K resolution as well as 4K (but you don't have a 4K120 option like you do on other phones).
Samsung advertizes smoother stabilization using the Super Steady mode, but that option still maxes out only at 1080p resolution, so you lose quite a bit of detail. The regular stabilization is still more than good enough and we prefer using that in most cases. During the day, you get beautiful lively colors and steady videos, and also absolutely incredible footage with the 3X and 10X zoom cameras. At night, the S22 Ultra benefits from an improved "clear" lens, so you get less flare from lights. Overall, this is one solid camera performer. Is it the very best? We still find it a bit inconsistent and a bit noisy compared to, say, an iPhone, but it's not too far behind.
Audio Quality and Haptics
Samsung needs to step it up with the loudspeaker quality
It's not a surprise that the S22 Ultra does not feature a headphone jack, just like the previous model. If you want to use wired headphones, you'd need to buy an adapter or get a pair of USB-C headphones (not included in the box with the phone).
But what about the phone audio, the one coming from the loudspeakers? Like before, you have two loudspeakers: a bottom-firing main one and a helper speaker in the earpiece, but this time the bottom firing one is on the bottom left rather than the right. Playing Wrong Side of Heaven by Five Finger Death Punch, the Galaxy S22 Ultra sounded similar to last year's model in that it emphasizes the vocals, but it was a bit quieter at maximum volume and actually feels like a step back in audio quality.
That's unfortunate because other phones have stepped up their audio game: the iPhone 13 Pro Max in particular delivers depth and overall clarity that helps for a richer, more fuller sound, while the S22 Ultra sounds muffled in comparison. The Pixel 6 Pro also offers a deeper sound, with more oomph.
Haptics on the other hand feel nice and precise, helpful to give you extra feedback while typing, playing games, or just to keep in check with notifications.
Battery: Good enough
5,000mAh
45W wired charging
15W wireless charging
Wireless Power Share
Batteries with a capacity of 5,000mAh are pretty much the norm for flagship smartphones at this price. The Galaxy S22 Ultra improves upon the 4,500mAh battery that was in the Note 20 Ultra, though it equals the 5,000mAh of the Galaxy S21 Ultra. It's a good starting point.
There are a lot of factors that play a role in determining battery life, including screen brightness, resolution and refresh rate, CPU/GPU output, background tasks, and so on. The Galaxy S22 Ultra ships with the phone set to the FHD+ resolution with the adaptive 120Hz refresh rate enabled, and with the processor speed control set to "optimized" rather than "high" or "maximum," so that's how we tested it. Adjusting any of these could increase or decrease battery life accordingly.
The Galaxy S22 Ultra's battery life is in the ballpark for an Android flagship phone, but falls behind the gains we've seen made by Apple.
With the out-of-the-box settings, the Galaxy S22 Ultra pushed through a full day quite easily and had some room to spare. Typically, the phone closed the day with 25% to 35% still left in the tank, depending on how I used it throughout the day. On days when I really pushed it hard, the battery was closer to the 20% mark. That included about 6.5 hours of screen-on time. While that is in the ballpark for an Android flagship phone, it's well behind the gains we've seen made by Apple, and specifically with this phone's immediate rival, the iPhone 13 Pro Max.
The phone charges at a maximum speed of 45W with a USB Power Delivery PPS-spec'd wired charger, though there's no charger in the box. We tested the phone with both 30W and 45W chargers. With the 30W charger, it typically took about 100 minutes to top up the phone from 20%. That's definitely far from great. Using a 45W charger saw much quicker charging times. The faster charger netted a full charge from 25% in less than 50 minutes. Clearly, the 45W option is the way to go since you have to buy it anyway.
On the wireless charging front, all three Galaxy S22 phones are limited to speeds of 15W. We tested the S22 Ultra on a Qi wireless pad that outputs 18W. Our results showed fairly slow charging given how large the battery is. More often than not it took just under two hours to reach a full charge on the wireless charger. It also supports reverse wireless charging at just 4.5W. I tested it on a pair of Samsung Galaxy Buds and it took quite a while to top them off, but this is about as fast as you can get from any phone.
The Samsung Galaxy S22 Ultra delivers battery life and charging that's on par with much of the Android competition, but it's far from the very best as far as daily performance goes.
Samsung Galaxy S22 Ultra performance and benchmarks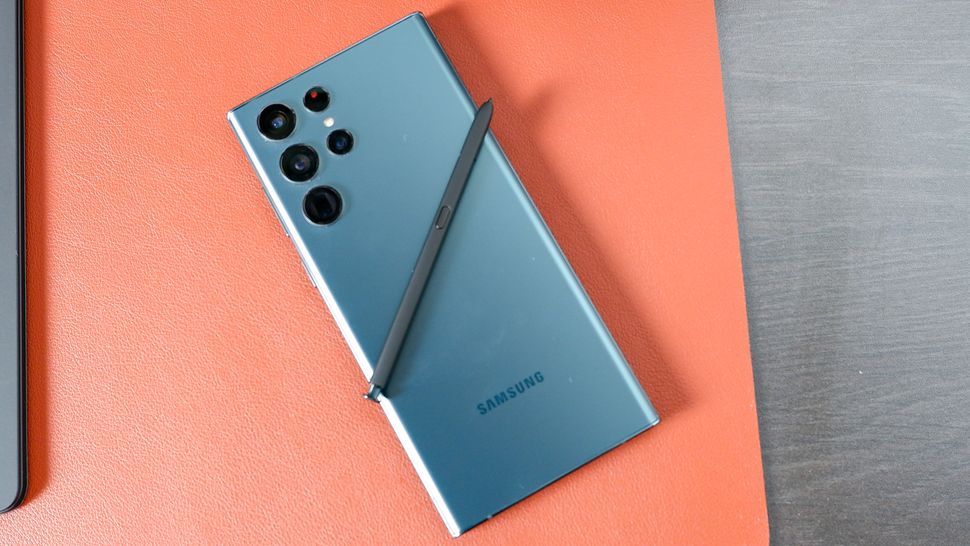 The Samsung Galaxy S22 Ultra is one of the first phones powered by Qualcomm's Snapdragon 8 Gen 1 processor, a 4nm chip that promises better CPU and graphics performance while delivering better efficiency. Samsung will offer its own 4nm Exynos 2200 chip in international markets.
Despite having only 8GB of RAM, the Galaxy S22 Ultra feels super smooth when opening and closing apps, and it delivered immersive gameplay while tearing around the track in the Drive Club game. Same thing goes with Call of Duty Mobile; I didn't notice a hiccup as I mowed down multiple enemies.
| | | | |
| --- | --- | --- | --- |
| | Galaxy S22 Ultra | Pixel 6 Pro | iPhone 13 Pro Max |
| Geekbench 5 (single / multicore) | 1240/3392 | 1027 / 2760 | 1720 / 4549 |
| Geekbench ML TensorFlow Lite (CPU / GPU / NPU) | 434/ 2039 / 3132 | 300 / 1376 / 1745 | 915 / 1587 / 2663 |
| Adobe Premiere Rush (Mins:Secs) | 0:47 | 0:48 | 0:25 |
| 3DMark Wild Life Unlimited (Score / FPS) | 9984 / 59.8 fps | 6682 / 40 fps | 11,418 / 68 fps |
| 3DMark Wild Life Extreme (Score / FPS) | 2346 / 14 | 1832 / 11 | 3075 / 18 |
Geekbench result not final as Geekbench works through issues with its test
On Geekbench 5, which measures overall performance, the Galaxy S22 Ultra turned in a single-core score of 1,240 and a multi-core score of 3,392. The Galaxy S21 Ultra had a lower single-core mark of 1,123 but strangely a higher mulit-core score of 3,440.
Geekbench told us that there could be an issue with the S22 Ultra's processor and throttling with the test, so we will report back once this is resolved.
By comparison, the iPhone 13 Pro Max hit 1.720 and 4,549 on Geekbench and the Google Pixel 6 Pro reached 1,027/2,760.
Things improved dramatically on the 3DMark Wild Life Unlimited graphics test. The Galaxy S22 Ultra reached a score of 9,984 and a frame rate of 59.84 fps. Compare that to 5,739/34.4 fps on the S21 Ultra. Still, the iPhone 13 Pro Max scored a higher 11,418/68.4 fps. The Pixel 6 Pro got only 6682 / 40 fps.
Last but not least, we did a video encoding test using the Adobe Premiere Rush app, taking a 4K video file and transcoding it to 1080p. The Galaxy S22 Ultra took a fairly brisk 47 seconds to complete the task, which is markedly better than the S21 Ultra's 1:02. The iPhone 13 Pro Max needed only 25 seconds, while the Pixel 6 Pro was comparable to the Galaxy S22 Ultra with a time of 48 seconds.
The Galaxy S22 Ultra starts with 128GB of RAM, but I'd like to see 256GB as the base storage for a $1,199 starting price. You can upgrade that to 256GB, 512GB or 1TB when you buy, but there's no expandable storage via a microSD slot.
If you crave state-of the-art wireless, you'll be glad to know that the Galaxy S22 Ultra features Wi-Fi 6E connectivity, which Samsung says is twice as fast as Wi-Fi 6.
Should you buy it?
Maybe, but only if you can swallow the price. If you're spending $1,200 on a phone, it's not because you need it. You're doing it because you want the best—premium materials, industry-leading update support, sub-pixel-level OLED perfection, and a stylus if you feel like it. I could have droned on twice as long about all the things this phone can do, but I still wouldn't be able to hit it all.
While I wouldn't say the Galaxy S22 Ultra has the best camera experience, it's at least competitive with the Pixel. Whereas Google goes for ease of use and AI magic, Samsung gives you more advanced hardware and all the settings you could ever want. That's going to appeal to some smartphone buyers. And you can feel safe buying an S22 Ultra even if you care about what version of Android your phone runs. Samsung is promising to keep this phone updated even longer than Google updates the Pixels. OS updates might be slower to arrive down the line, but five years of security patches is a great deal if you're the type to keep a phone for the long haul.
The S22 Ultra is the most refined piece of mobile hardware you can buy running Android today. If that excites you, then maybe you should consider buying it. Try not to spend $1,200 on it, though. Samsung has very generous trade-in valuations, and even if you don't buy one during the pre-order bonanza, there will be plenty of sales down the line. With years of updates in front of it, the S22 Ultra will still be a good purchase when Samsung is looking to pump up those Q3 numbers.
Buy it if…
You want the best Android hardware and the high price doesn't bother you.
You'll actually use a stylus if it's built into your phone.
Don't buy it if…
The plethora of features will be wasted on you.
You don't like enormous, pocket-busting phones.